Software to Enhance Confidence in Prostate Cancer Diagnosis
Introducing Paige Prostate, the first AI-based pathology product to receive FDA marketing authorization for in vitro diagnostic (IVD) use in detecting cancer in
prostate needle biopsies.
FDA-approved Paige Prostate leverages clinical-grade AI to transform prostate biopsy diagnosis by enhancing accuracy and improving efficiency.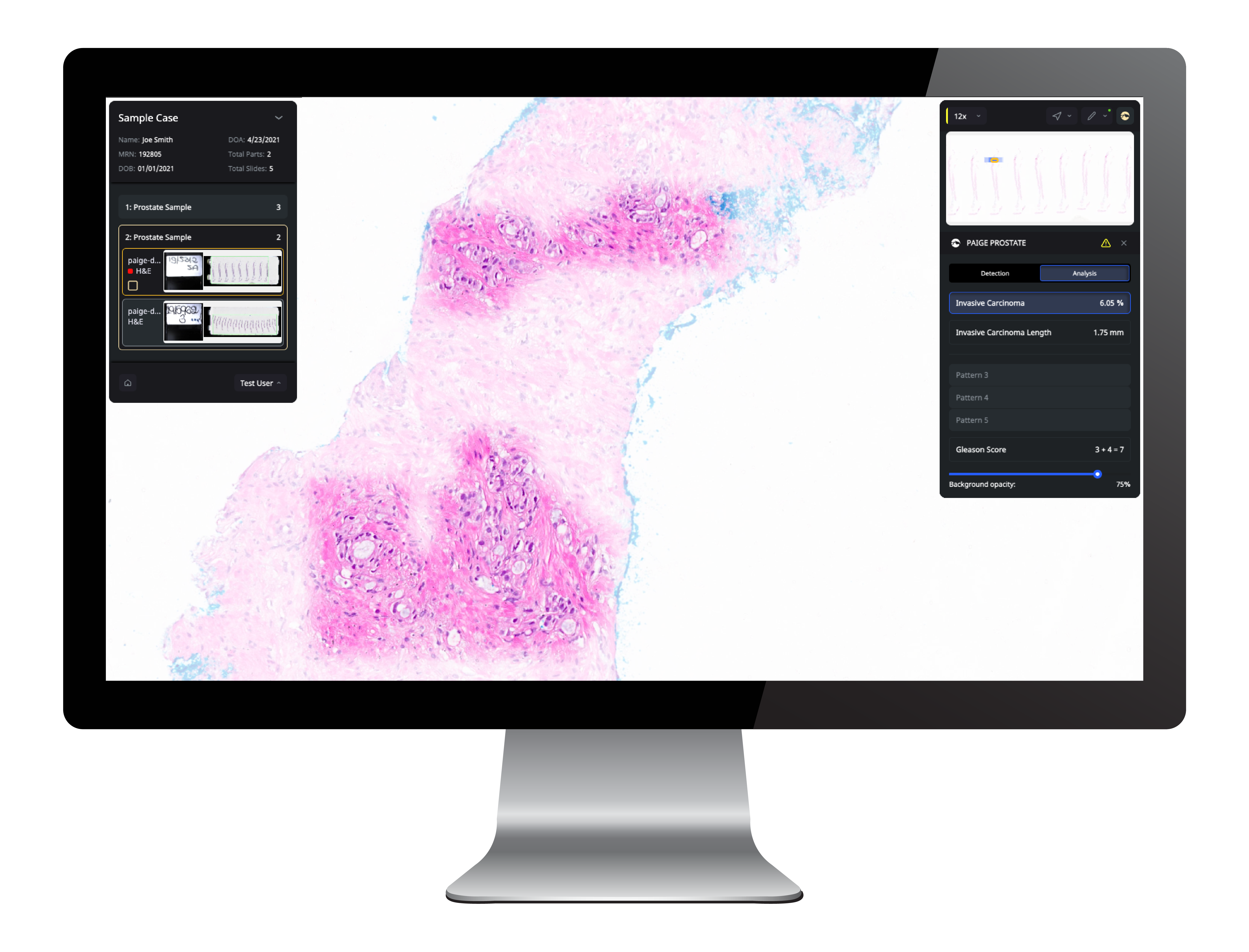 Proven to improve diagnostic accuracy across levels of specialization and years of experience, Paige Prostate can help pathologists reduce diagnostic errors and improve efficiency. Paige Prostate has been thoroughly validated on slides from over 200 institutions, offering robust performance without the need for tuning or recalibration. Paige Prostate works on a broad range of data, spanning pre-analytical variations, staining techniques, and scanning artifacts so pathologists can sign out prostate cases with confidence and peace of mind and ultimately deliver fast, accurate results for patients.
Robust & Powerful AI
Offers cutting-edge AI-powered detection that's backed by numerous peer-reviewed studies
Secure & Simple to Implement
Works with many scanners and can be rapidly deployed - no hardware required
Confidence & Peace of Mind
Delivers accurate results you can rely on and significantly reduces diagnostic errors
Safe & FDA Approved
Paige Prostate is the first AI-powered pathology solution to receive FDA approval.
70% reduction in detection errors
Proven to significantly improve pathologist sensitivity and specificity in the diagnosis of prostate cancer with an average 70% reduction in detection errors in a cohort of 16 first-time users